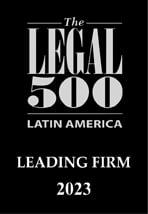 It is our pleasure to share with you that our Labor & Employment practice has been ranked Tier 2 on an international level by the prestigious legal directory The Legal 500. Moreover, our founding partners Oscar De la Vega Gómez and Ricardo Martínez Rojas have been recognized as Leading Individuals in labor law.
The Legal 500 characterizes De la Vega & Martínez Rojas as "a dynamic new firm led by prominent labour attorneys." Our employment law boutique has been warmly received by clients who additionally note that the practice is "globally sophisticated and current in its approach" and has been "heavily engaged in advising global clients concerning the 2019 Mexico labour law reform and the 2021 outsourcing reform." The clients especially seem to appreciate that our office gives feedback to the client on practices that must be corrected within the company, and they point out that not just any office does that."
Oscar De la Vega Gómez is defined as "a titan of the Mexican labour market, whose practice is centred on labour litigation and counselling". Clients point out that Oscar is "well-connected locally and has vast experience advising global clients".
Ricardo Martínez Rojas is recognized as an expert who handles matters, including contracts, collective conflicts, employment litigation and employee compensation and benefits.
Edgar Mayorga is acknowledged for his over 30 years' long experience and for heading the immigration and non-litigious administrative law department at De la Vega & Martínez Rojas.
Enrique García Conde is recognized for his 30 years' experience in labour litigation and advisory.
Luis Rolando Santos is characterized as a 40 year labour litigation veteran.
Jimena Sanchez is recognized for leading the advice and counsel practice in employment law matters.
Eduardo Arrocha is acknowledged as a senior advisor for major client matters.